The Airbus A340 is a European-made four-engined wide-body jet airliner designed for long- to ultra long- haul flights. It was introduced in 1993. It was developed along side the A330, but the A340 was introduced first. They both share very similar features, making the only main difference the engine number, which was huge, because of ETOPS regulations at the time, and did not affect the A340 because it had 4 engines. The A340-500 has the longest range of any aircraft in the game, so it succeeds in the range market. The Airbus A340-600 was the longest commercial aircraft in terms of length when it was introduced, but it was succeeded by the 747-8i, which in turn will be succeeded by the future 777-9X. In game, there are four variants of the A340.
Variants
The four variants are: A340-200, A340-300, A340-500, and A340-600.
A340-200
As the A340 Family's shortest-fuselage member, the A340-200 has a capacity of around 350 in a typical layout. With its optimal range of 15000 KM, this jetliner allows airlines to open long-range, direct routes between city pairs that previously needed intermediate stops. Airbus launched the A340-200 in 1987 as a new-generation aircraft ideal for long and thin routes, with a special emphasis on travel over water and across remote areas far from airports. It entered into commercial service in March 1993, and is powered by four efficient CFM International CFM56-5C4 engines that provide a thrust of 34,000 lb. Using the optimised 222-inch Airbus widebody cross-section, the A340-200 combines passenger cabin comfort and lower-deck cargo hold efficiency with minimum weight and aerodynamic drag. In a six-abreast premium seating in first or business class, all high-yield passengers have a window or aisle seat, while an eight-abreast economy layout offers better comfort than competing aircraft.
Class: First Class/Business/Economy
Maximum Capacity: 350
Range: 15000 km
Engines: Pratt & Whitney JT3D-1
Fuel Efficiency: 7.6
Cruise Speed: 0.82 mach
Length: 59.4m
Height: 16.8m
Wing Span: 60.3m
Lifespan: 20 years
Price: $185,000K
Time:1992.12 - 1998.11
Wikipedia : LINK
A340-300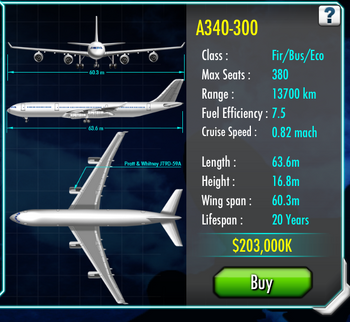 Class: First Class/Business/Economy
Maximum Capacity: 380
Range: 13700 km
Engines: Pratt & Whitney JT9D-59A
Fuel Efficiency: 7.5
Cruise Speed: 0.82 mach
Length: 63.6m
Height: 16.8m
Wing Span: 60.3m
Lifespan: 20 years
Price: $203,000K
Introduction Date:  1992.06
Wikipedia : LINK
A340-500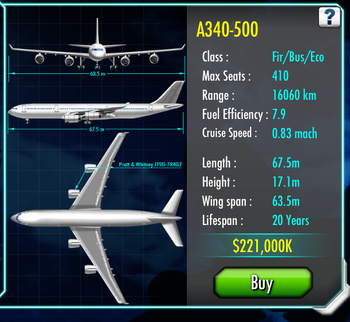 Class: First Class/Business/Economy
Maximum Capacity: 410
Range: 16060 km
Engines: Pratt & Whitney JT9D-7R4G2
Fuel Efficiency: 7.9
Cruise Speed: 0.83 mach
Length: 67.5m
Height: 17.1m
Wing Span: 63.5m
Lifespan: 20 years
Price: $221,000K
Time: 2002.12
Wikipedia : LINK
A340-600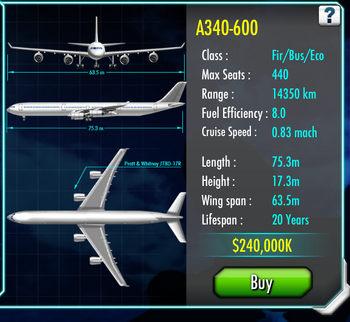 Class: First Class/Business/Economy
Maximum Capacity: 440
Range: 14350 km
Engines: Pratt & Whitney JT8D-17R
Fuel Efficiency: 8.0
Cruise Speed: 0.83 mach
Length: 75.3m
Height: 17.3m
Wing Span: 63.5m
Lifespan: 20 years
Price: $240,000K
Time: 2002.05
Wikipedia : LINK