The Airbus A350 XWB is a family of long-range, twin-engine wide-body jet airliners developed by European aircraft manufacturer Airbus. The A350 is the first Airbus with both fuselage and wing structures made primarily of carbon-fibre-reinforced polymer. Its variants seat 280 to 366 passengers in typical three-class seating layouts. The A350 is positioned to succeed the A330 and A340, and compete with Boeing's 787 and 777.
The A350 was originally conceived in 2004, pairing the A330's fuselage with new aerodynamics features and engines. In 2006, Airbus redesigned the aircraft in response to criticism from several major prospective customers and renamed it the A350 XWB (extra wide body).
Variants
There are four variants of the Airbus A350.
A350-800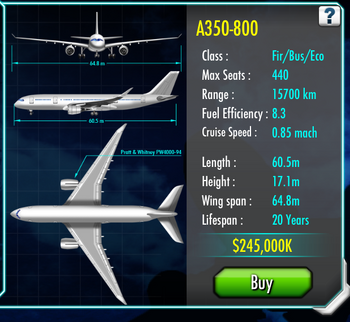 Class: First Class/Business/Economy
Maximum Capacity: 440
Range: 15700 km
Engines: Rolls-Royce Trent XWB-84k
Fuel Efficiency: 8.3
Cruise Speed: 0.85 mach
Length: 60.5m
Height: 17.1m
Wing Span: 64.8m
Lifespan: 20 years
Price: $245,000K
Wikipedia : LINK
A350-900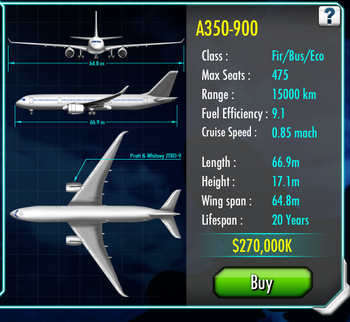 Class: First Class/Business/Economy
Maximum Capacity: 475
Range: 15000 km
Engines: Rolls-Royce Trent XWB-96k
Fuel Efficiency: 9.1
Cruise Speed: 0.85 mach
Length: 66.9m
Height: 17.1m
Wing Span: 64.8m
Lifespan: 20 years
Price: $270,000K
Introduction: 2014/09
Wikipedia : LINK
A350-900F
Class: Cargo
Maximum Capacity: 78 tons
Range: 9250 km
Engines: Rolls-Royce Trent XWB-96k
Fuel Efficiency: 9.1
Cruise Speed: 0.85 mach
Length: 66.9m
Height: 17.1m
Wing Span: 64.8m
Lifespan: 20 years
Price: $259,000K
Wikipedia : LINK
A350-1000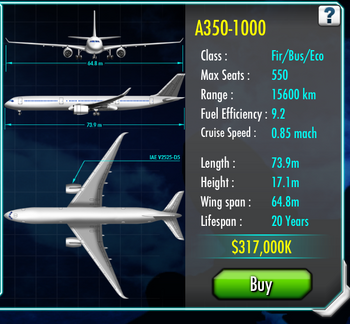 Class: First Class/Business/Economy
Maximum Capacity: 550
Range: 15600 km
Engines: Rolls-Royce Trent XWB-96k
Fuel Efficiency: 9.2
Cruise Speed: 0.85 mach
Length: 73.9m
Height: 17.1m
Wing Span: 64.8m
Lifespan: 20 years
Price: $317,000K
Wikipedia : LINK