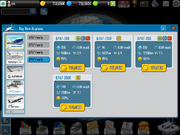 The Boeing 747 is an American-made, four-engined, wide-bodied commercial aircraft that is made by Boeing. Known as the 
Jumbo Jet,
it is probably one of the most well-known aeroplanes of all time. First introduced in 1970, many airlines have only just begun retiring their 747 fleets. Its distinct characteristics include its short second deck at the front of the aeroplane which creates a distinctive hump. The 747-8 is currently the world's longest commercial aircraft at 250 ft, but the 777-9X will succeed it later. Because the 747-400 (the most widely used version at this time) is so old and because of competition from the Airbus A380, Boeing designed the stretched 747-8. Because of a change in airline strategy, the -8 continues to sell slowly. But no matter what happens, the legacy of the 747 will live on forever.
In the game, there are many variants of the 747. They include the B747-100 [F], B747-200 [F], B747-300, B747-400 [F], and B747-8 [F].
Variants
There are nine variants of the 747 in-game.
Original 747 Series
B747-100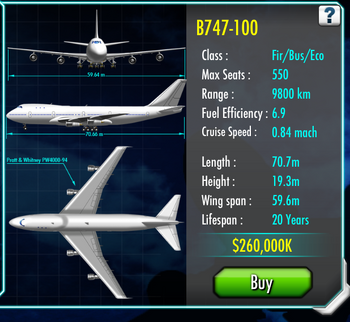 Class: First Class/Business/Economy
Maximum Capacity: 550
Range: 9800 km
Engines: Pratt & Whitney PW4000-94
Fuel Efficiency: 6.9
Cruise Speed: 0.84 mach
Length: 70.7m
Height: 19.3m
Wing Span: 59.6m
Lifespan: 20 years
Price: $260,000K
Time:1970.01
End of production:1986.07
Wikipedia: LINK
B747-100F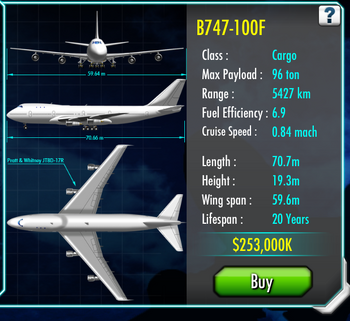 Class: Cargo
Maximum Payload: 96 tons
Range: 5427 km
Engines: Pratt & Whitney JT8D-17R
Fuel Efficiency: 6.9
Cruise Speed: 0.84 mach
Length: 70.7m
Height: 19.3m
Wing Span: 59.6m
Lifespan: 20 years
Price: $253,000K
Time:1970.03
End of production:1986.07
Wikipedia: LINK
B747-200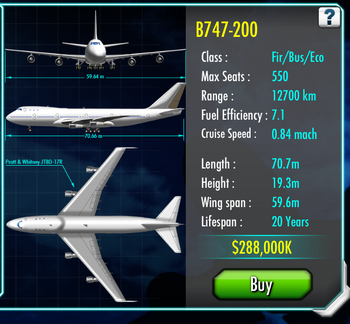 Class: First Class/Business/Economy
Maximum Capacity: 550
Range: 12700 km
Engines: Pratt & Whitney JT8D-17R
Fuel Efficiency: 7.1
Cruise Speed: 0.84 mach
Length: 70.7m
Height: 19.3m
Wing Span: 59.6m
Lifespan: 20 years
Price: $288,000K
Time: 1971.11 - 1990.12
Wikipedia: LINK
B747-200F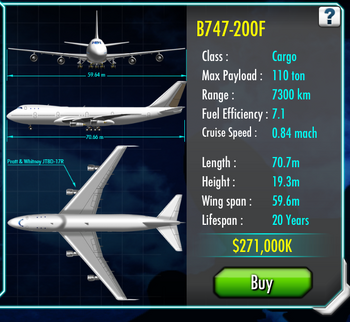 Class: Cargo
Maximum Payload: 110 tons
Range: 7300 km
Engines: Pratt & Whitney JT8D-17R
Fuel Efficiency: 7,1
Cruise Speed: 0.84 mach
Length: 70.7m
Height: 19.3m
Wing Span: 59.6m
Lifespan: 20 years
Price: $271,000K
Time: 1972.02 - 1994.05
Wikipedia: LINK
Middle Generation 747s
B747-300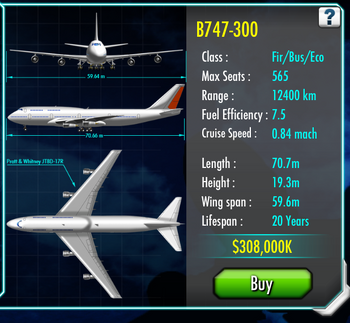 Class: First Class/Business/Economy
Maximum Capacity: 565
Range: 12400 km
Engines: Pratt & Whitney JT8D-17R
Fuel Efficiency: 7.5
Cruise Speed: 0.84 mach
Length: 70.7m
Height: 19.3m
Wing Span: 59.6m
Lifespan: 20 years
Price: $308,000K
End of Production:  1990.09
Wikipedia: LINK
B747-400
Class: First Class/Business/Economy
Maximum Capacity: 580
Range: 13450 km
Engines: Pratt & Whitney JT8D-17R
Fuel Efficiency: 7.8
Cruise Speed: 0.85 mach
Length: 70.66 meters
Height: 19.4 meters
Wing Span: 64.44 meters
Lifespan: 20 years
Price: $327,000K
Time: 1989.03
Wikipedia: LINK
B747-400F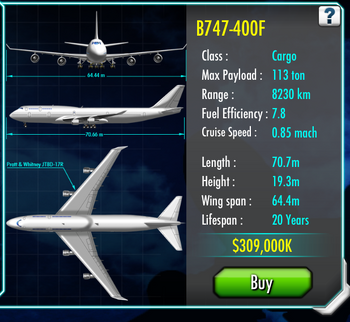 Class: Cargo
Maximum Payload: 113 tons
Range: 8230 km
Engines: Pratt & Whitney JT8D-17R
Fuel Efficiency: 7.8
Cruise Speed: 0.85 mach
Length: 70.7m
Height: 19.4m
Wing Span: 64.4m
Lifespan: 20 years
Price: $309,000K
Time:  1993.11 - 2012.05
Wikipedia: LINK
Next-Generation 747s
B747-8I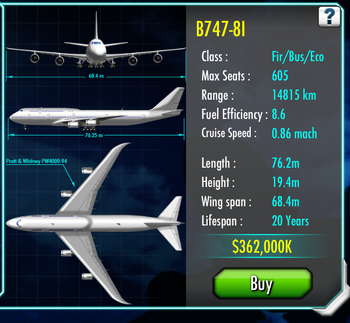 Class: First Class/Business/Economy
Maximum Capacity: 605
Range: 14815 km
Engines: Pratt & Whitney PW4000-94
Fuel Efficiency: 8.6
Cruise Speed: 0.86 mach
Length: 76.25 meters
Height: 19.4 meters
Wing Span: 68.4 meters
Lifespan: 20 years
Price: $362,000K
Time: 2012.05
Wikipedia: LINK
B747-8F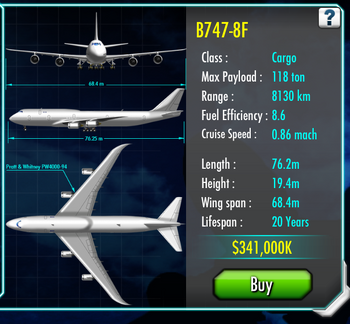 Class: Cargo
Maximum Payload: 118 tons
Range: 8130 km
Engines: Pratt & Whitney PW4000-94
Fuel Efficiency: 8.6
Cruise Speed: 0.86 mach
Length: 76.25 meters
Height: 19.4 meters
Wing Span: 68.4 meters
Lifespan: 20 years
Price: $341,000K
Time: 2012.05
Wikipedia: LINK