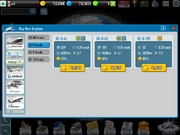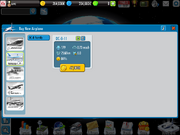 The 
Douglas DC-8
 (also known as the 
McDonnell Douglas DC-8
) is a four-engine long-range narrow-body jet airliner built from 1958 to 1972 by the Douglas Aircraft Company. Launched after the competing Boeing 707, the DC-8 nevertheless kept Douglas in a strong position in the airliner market, and remained in production until 1972 when it began to be superseded by larger wide-body designs, including the Boeing 747, McDonnell Douglas DC-10 and Lockheed L-1011 TriStar. The DC-8's design allowed it a slightly larger cargo capacity than the 707 and some re-engined DC-8s are still in use as freighters.
In game the DC-8 has 6 variants; the DC-8-11, DC-8-61, DC-8-62, DC-80-70F, DC-8-71, and DC-8-72. The DC-8-11 is the only one available from the start. The rest are introduced from the 60's to the 70's.
Variants
In game, there are currently 6 variants of the DC-8. The times they are introduced vary from the beginning to the 70's.
DC-8-11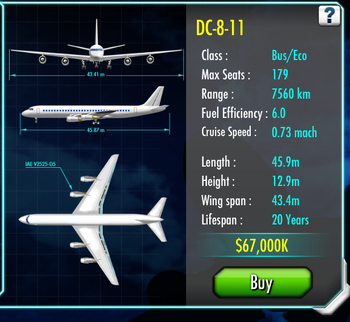 Class: Business/Economy
Maximum Capacity: 179 
Range: 7560 km
Engines: IAE V2525-D5
Fuel Efficiency: 6.0
Cruise Speed: 0.73 mach
Length: 45.9m
Height: 12.9m
Wing Span: 43.4m
Lifespan: 20 years
Price: $67,000K
WIkipedia : LINK
DC-8-61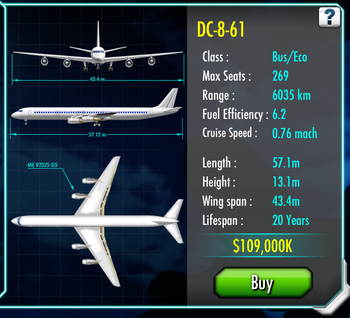 Class: Business/Economy
Maximum Capacity: 269
Range: 6035 km
Engines: IAE V2525-D5
Fuel Efficiency: 6.2
Cruise Speed: 0.76 mach
Length: 57.1m
Height: 13.1m
Wing Span: 43.4m
Lifespan: 20 years
Price: $109,000K
Introduction Date: 1968.05
End of Production: 1986.11
WIkipedia : LINK
DC-8-62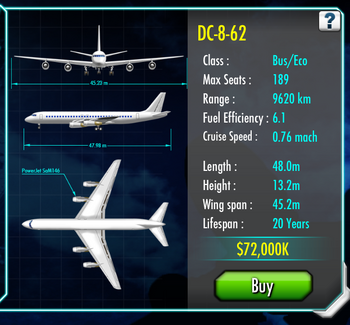 Class: Business/Economy
Maximum Capacity: 189
Range: 9620 km
Engines: PowerJet SoM146
Fuel Efficiency: 6.1
Cruise Speed: 0.76 mach
Length: 48.0m
Height: 13.2m
Wing Span: 45.2m
Lifespan: 20 years
Price: $72,000K
Test Flight: 1963.08
Introduction Date: 1965.02
WIkipedia : LINK
DC-8-71
Class: Business/Economy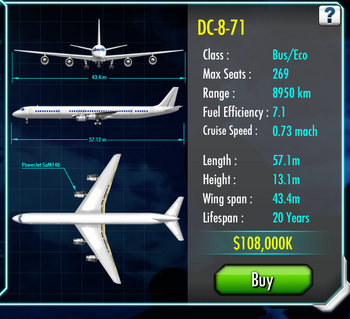 Maximum Capacity: 269
Range: 8950 km
Engines: PowerJet SoM146
Fuel Efficiency: 7.1
Cruise Speed: 0.73 mach
Length: 57.1m
Height: 13.1m
Wing Span: 43.4m
Lifespan: 20 years
Price: $108,000K
End of Production:  1999.07
DC-8-72
Class: Business/Economy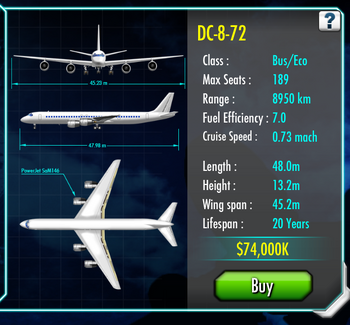 Maximum Capacity: 189
Range: 8950 km
Engines: PowerJet SoM146
Fuel Efficiency: 7.0
Cruise Speed: 0.73 mach
Length: 48.0m
Height: 13.2m
Wing Span: 45.2m
Lifespan: 20 years
Price: $74,000K
Introduction Date: 1983.04
End of Production:  2000.04
Wikipedia : LINK
DC-8-70F
Class: Cargo
Cargo Capacity: 35 tons
Range: 5820 km
Engines: PowerJet SoM146
Fuel Efficiency: 7.0
Cruise Speed: 0.73 mach
Length: 57.1m
Height: 13.1m
Wing Span: 43.4m
Lifespan: 20 years
Price: $96,000K
Time : 1977.02 - 1989.12
Wikipedia : LINK