For tips on other aspects of Air Tycoon Online from experienced players, please visit the Tips and Tricks page.
        An Economic Crisis is an event in the game in which high fuel prices and low passenger rates occur (Only low passenger rates on ATO3/AT5) . An economic crisis will happen in the years between 1970-1980, 1987-2000, and 2007-2020. The economic crisis is hard to endure for many players, most quitting due to negative profits or bankruptcy. This article aims to help you try and survive the economic crisis and possibly emerge on the top of the leaderboard.
Occurrence Years
The economic crisis that occurs between 1987-2000 and 2007-2020 will happen randomly in a few years within the 2 time periods, while the one from 1970-1980 usually occurs in the years 1978 and 1979 (there is a slight chance it may occur in 1972 as well).
Before the 1978-1979 Crisis
We will be taking the 1970s period for this example as we know the years that the crisis will occur.
1970
To start preparing for the economic crisis, you should start replacing low fuel efficient planes with more fuel efficient aircraft. Examples of low-fuel efficiency aircraft are Russian-made aircraft such as TU-104 and TU-124. You should also replace aircraft whose lifespans are reaching its end. Here is a chart for the recommended aircraft you can choose to use to replace which type of aircraft you are using in service.
Old Plane
Recommended Replacement Plane
Alternate Replacement

Tupolev 104, 124, 134, 134A

Boeing 737-100, 200
Boeing 727-100, 200

Tupolev 114
Ilyushin 18D, 62, 62M
Lockheed 1049G*

Lockheed L-1011-1/200/500
Douglas DC-10-10
*Note: Although the L-1049G is farly fuel efficent, it will begin to reach its lifespan in the late '70s.
If you have not done so, purchase fuel tanks (but only if you can actually continue to buy fuel to make them worthwhile). Although they cost credits, they can help lower your fuel expenses as the expenses usually skyrocket during the crisis.
1977.8
If you read the World Airline News at this time, you should get an update which talks about an incoming economic crisis. You should continue to replace your old planes with newer ones and building fuel tanks if possible. If you still have not replaced your old planes with new ones, replace planes that are running very profitable routes.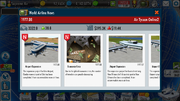 During the 1978-1979 Crisis           
If you have prepared properly, you should survive the economic crisis just fine. Remember to keep monitoring routes that are not generating enough profit. Continue replacing aircraft with new ones and you might want to start new routes as many players are abandoning good routes for you to seize.
Tips
Here are some tips to help you endure the crisis:
        Invest in monopoly long haul flights between major cities. In an economic crisis, they generate around $2,000K while in the rest of the game, they can generate around $8-10,000K.
        Unrequest any unused slots. You may have over 50-100 unused slots lying around. Unrequesting those can save you around $1-2,000K
        If you want to stop operating a route without closing it, simply choose the route, then tap the planes section, then deselect any planes operating the route. The route won't generate any profit, but the route is still there.
        If you are running routes with large planes like the Boeing 747s that are generating low profits, replace them with smaller planes with first class, then after the crisis put the Boeing 747s back into service
After the 1978-1979 Crisis
        Congratulations! You survived the economic crisis (assuming you didn't quit). During the experience, you may have learned many tricks that you can use to survive the other economic crises (1987-2000, 2007-2020) in the game. Be sure to share your own tricks and tips to help others survive the economic crisis.
The 1987-2000 and 2007-2020 Crises
        Since these economic crises have no defined date, you should always be alert at all times so that you can survive and remain on the top of the leaderboard.